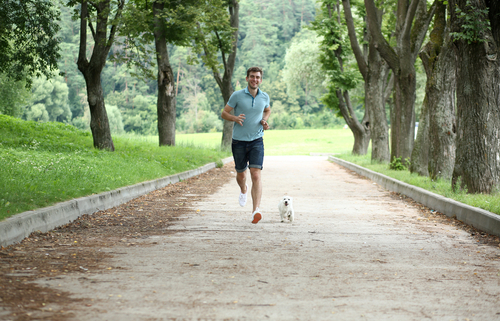 Have you ever wanted to run in a 5k (3.1 mile) race with your dog?  With any race, you will have to train!  This means that your four-legged friend will have to train with you.  Training your dog to run a 5k is straightforward, but there are some hurdles that you will have to overcome.  It is important that you gradually build up the distance to track your dog's progress.  Basic obedience commands will be beneficial as well!  Think about it… you won't want to be pulled in all sorts of directions during the run.  Oh, and before we forget… you must ensure that your dog is at an age and health status which would be suited well for a run.
To get started with your training program, you will need to collect a few items.  The most essential item that you should bring along will be treats.  You will also need a secure, short leash.  You may even consider purchasing a body harness which will help you increase control and reduce strain on your dog's neck.  Water is very important too!  Be sure that you are packing along a collapsible bowl and water to prevent dehydration.
To train effectively, we recommend that you follow a Start Small Method which is outlined below:
Step #1 – Fast Walk – You will need to concentrate on a fast walk.  Secure your dog to the leash and start walking briskly for a t least 15 minutes.
Step #2 – Calm & Quiet – Place high focus on ensuring that your dog is concentrating on the task at hand (walking).  This is where the basic obedience comes into play.  You won't want your dog to stop and smell everything along the way!
Step #3 – Jog – The next time you take your dog out, you may upgrade to a jog.  Do not run too fast as they will need to build up their stamina.  Pay close attention to the dog's exertion level.  If they are tired, then stop and walk for a bit!
Step #4 – Increase Distance – It is now time to increase distance each time you take your dog out to train.  We recommend that you give your dog at least one day of rest in-between runs.  This will ensure that their muscles are getting recovery as well.
Step #5 – Reward – It's time to give your dog a generous reward at the end of the run, or even when they stop for a break!  Consistency is key and you will be running 3.1 miles with your dog in no time!
https://hotdogonaleash.com/wp-content/uploads/2021/04/Running-a-5k-With-Your-Dog.jpg
334
500
Hot Dog on a Leash
http://hotdogonaleash.com/wp-content/uploads/2017/10/hdoal-300x247.png
Hot Dog on a Leash
2021-05-04 06:16:38
2021-05-04 06:17:43
Running a 5k With Your Dog