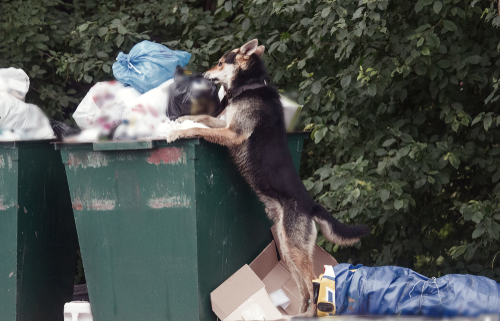 As we all know, dogs love to explore!  Do you ever find your dog getting into the trash?  Coming home to a messy house with trash all over the place is not your ideal scenario.  It not only creates a huge cleanup but poses as a serious health risk considering all the dangerous stuff that your dog can get into.  The good news is that there are some simple ways you can keep your dog out of the trash.
 We always Say that prevention is key.  The best way to guarantee your dog can't get into the trash is by keeping it out of their reach.  If your dog likes to get into the garbage, then we recommend you making it a habit to move it out of their reach whenever you leave the house.  There are many places where you can store your trash can.  Perhaps you can consider the closet, garage, storage room, bathroom, or even under the kitchen sink!
You also can purchase a trash can that your dog cannot get into.  For dogs that really love getting into the trash, you will need to look for a trash can that is not too heavy to knock over, too tall to be gotten into, and that it has a locking lid.  There are also trash cans which can be opened by a pedal, but watch out, dogs can get creative and learn how to maneuver those.  Safety locks are another option.  These child safety locks use adhesive to lock onto a surface and have a simple latch that you press to release.
Often, it is about creativity and figuring out what your dog can do.  We advise you to take the issue seriously as you do not ever want your dog to come across any foreign or poisonous object which could potentially create harm.
https://hotdogonaleash.com/wp-content/uploads/2021/04/Keeping-Your-Dog-Out-of-the-Trash-Can.jpg
334
500
Hot Dog on a Leash
http://hotdogonaleash.com/wp-content/uploads/2017/10/hdoal-300x247.png
Hot Dog on a Leash
2021-05-03 08:39:49
2021-05-03 08:39:49
Keeping Your Dog Out of the Trash Can