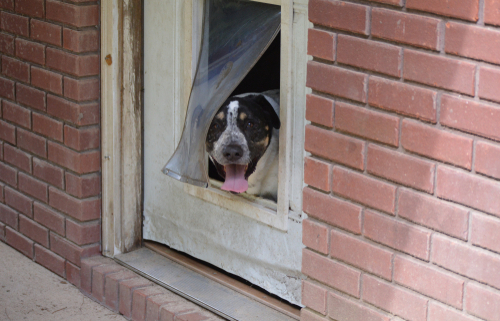 Pet doors are a great way to have a happy and healthy pup.  However, there are a lot of myths when it comes to selecting the best one for your home.  We have created a list of some of the most common misconceptions about pet doors to help you gain a better understanding!
One size fits all! Not true at all. It is important to make sure your furry friend will fit through their door.  After all, they will be the ones using it every day.  We recommend that you measure your pet from floor to shoulder and have the top of the pet door flap installed at least one inch above their back.  This will ensure comfortability.
All flaps are the same! Nope. All pet doors are similar, to a certain extent. However, it is important to note that factors such as climate and economical choice determine how a flap is made.  For example, weatherproof flaps tend to be slightly heavier.  Think about the weight and texture of the flap before your purchase.
Doggie doors are only made for doors! Not at all. You can literally install the pet door wherever you see fit.  It is important to place the door in a position that is easily accessible for the pet and leads to an open area.  In other words, do not install a pet door which leads to a big drop!
Intruders can enter the home through a pet door! Yes and no. It really depends on the size of the pet door. However, there are additional security covers which can be purchased to help prevent a person from intruding.
My dog will not be able to push through the door! Sometimes. This is a common concern with smaller pets.  It is a good idea to purchase a smaller flap relative to your pet's size.  You may also need to "train" the dog on how to use the door.
All in all, pet doors are a great way for your dog to have some extra freedom while you are home.  The door may be overwhelming to the dog at first, but they will get used to it with time!
https://hotdogonaleash.com/wp-content/uploads/2020/11/Doggie-Doors.jpg
333
500
Hot Dog on a Leash
http://hotdogonaleash.com/wp-content/uploads/2017/10/hdoal-300x247.png
Hot Dog on a Leash
2020-11-09 06:22:48
2020-11-09 06:22:48
Doggie Doors