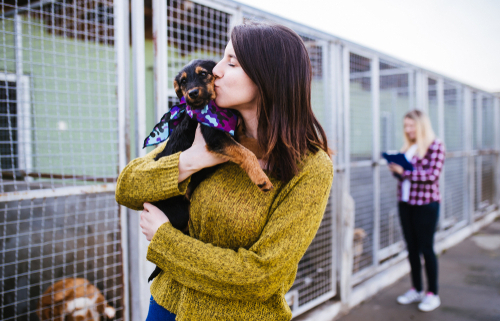 It has been known that some of the best dogs come from the shelter. They have huge hearts with a lot of love to give. They make wonderful pets, friends, companions, and family members. The bad thing is that there are several misconceptions when it comes to shelter dogs. We created a list of things you should know about these loving animals below!
There are TONS of dogs that need homes. Did you know that more than 7 million dogs and cats end up in shelters each year? There are plenty of pets that get adopted, but unfortunately over 670k are euthanized each year.
Don't pay attention to the history. You may be wondering why a dog ended up in the shelter in the first place. Ultimately, the shelter staff can tell you what they have observed while they had an opportunity to take care of the dog. Personal insight like this is the best bet to learn more about the dog!
You can train a shelter dog. A lot of people worry that they will not be able to train their shelter dog, especially if the dog is older. The good news: this is extremely false! Any dog can learn. On the flip side, you may even find a dog who is already trained. Regardless, patience and consistency will allow you to train any dog.
Uniqueness. Instead of looking at your dog as a "shelter dog", think of your dog as your dog. They are unique and have their own set of characteristics which make them special. Getting to know your dog's unique personality is the most important thing that you can do. Embrace it.
An older shelter dog may be the perfect pick. Often, people do not consider looking at a senior dog who has a lot of life under their belt. These dogs are never going to teethe again, they may be more patient, or they have a calm demeanor. Just because the dog is older doesn't mean that they cannot be the most perfect dog!
Creating the bond. Your relationship with your dog can become one of the most meaningful of your life, if you just give a shelter dog a chance.
We hope that our list allows you to look at shelter dogs in a different light. If anything, these dogs may provide the most love that you can ever imagine. It may be worth a trip to your local shelter to see for yourself.
https://hotdogonaleash.com/wp-content/uploads/2022/05/What-You-Should-Know-About-Shelter-Dogs-.jpg
334
500
Hot Dog on a Leash
https://www.hotdogonaleash.com/wp-content/uploads/2017/10/hdoal-300x247.png
Hot Dog on a Leash
2022-05-13 06:50:58
2022-05-13 06:50:58
What You Should Know About Shelter Dogs