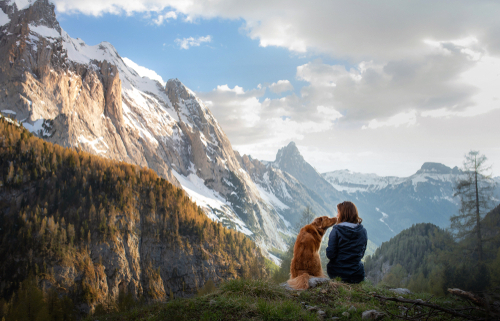 Research of behavior and biology offer many clues to the mystery of canine emotions.  Dogs com with MANY different emotions.  From happiness to when they see their owner to even disgust when they sniff a very strong smell!  There are regular displays of fear, apprehension, joy, interest, and affection.  People have always wanted to know whether science has demonstrated that dogs have emotions, much like our own.
It is obvious that dogs show emotion when we look at them.  Affection can be clear in a relaxed, panting face, or even a loosely wagging tail and a desire to be near you.  Dogs encompass a "secure-base effect" in relation to the people who care for them.  Think of this as the attachment that children have towards their parents.  It is obvious.  Dogs tend to play more when their parents are around, wait at the door when they are gone, and stick by your side when you are home.  Talk about COMPANIONSHIP!!!
Researchers have studied various facial expressions associated with different emotions in dogs.  For example, the eyebrow on the left side of the face is more active when dogs see their owners, presumably because it corresponds to the right side of the brain, which controls the expression of emotion.  With other humans, it is easy for us to assume that when we see them experiencing an emotion, we have an idea of what the emotion 'feels like" to them.  However, we cannot assume that a dog's experience of what seems to be is precisely like ours.  In a way, our assumptions are subjective as we base dog feelings off human expressions.
Regardless of how you feel on the topic, you do not need to look at science to tell you.  If you watch carefully and acknowledge your dog's behavior, you'll go as far inside the dog's mind as a scientist can.  At the end of the day, it's all about LOVE!
https://hotdogonaleash.com/wp-content/uploads/2021/01/What-Does-it-Feel-Like-to-Be-a-Dog.jpg
334
500
Hot Dog on a Leash
http://hotdogonaleash.com/wp-content/uploads/2017/10/hdoal-300x247.png
Hot Dog on a Leash
2021-01-25 05:38:02
2021-01-25 05:38:02
What Does it Feel Like to Be a Dog?