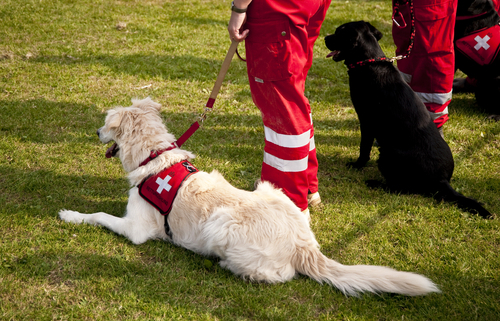 Search and rescue dogs are one of the most well-respected dogs in the working dog industry!  They have a very impressive work ethic and dedication to getting the job done.  Their expertise is something to be proud of.  In this article, we will discuss what exactly a search and rescue dog is, and how to train a dog to do the job.
A search and rescue dog is a top-notch working dog.  They are like the service dogs that police partner with.  They are trained to complete a certain task in search and rescue while providing services to human welfare.  These types of dogs go through training to teach them how to lock in on a human scent and alert their handler and take them to the location.  Skills like this can be the key to someone's survival.
Search and rescue dogs are normally trained with either one or two main methods.  The first method is recall training, which teaches the dog to find a missing human and lead their handler to them.  Victim loyalty is the second training method which teaches the dog to with the individual and bark for their handler to come to them.  Please keep in mind that training methods may vary, depending on the situation.
Search and rescue dogs are incredible dogs with a mission to save lives.  Each dog will complete their own trainings depending on what environment they will work in.  Search and rescue dogs may specialize in water rescues, mountain searching, or even disaster relief.  As you can see, these dogs are a true blessing to the world!
https://hotdogonaleash.com/wp-content/uploads/2021/11/Search-Rescue-Dog-Training.jpg
333
500
Hot Dog on a Leash
https://www.hotdogonaleash.com/wp-content/uploads/2017/10/hdoal-300x247.png
Hot Dog on a Leash
2021-11-17 10:45:59
2021-11-17 10:45:59
Search & Rescue Dog Training