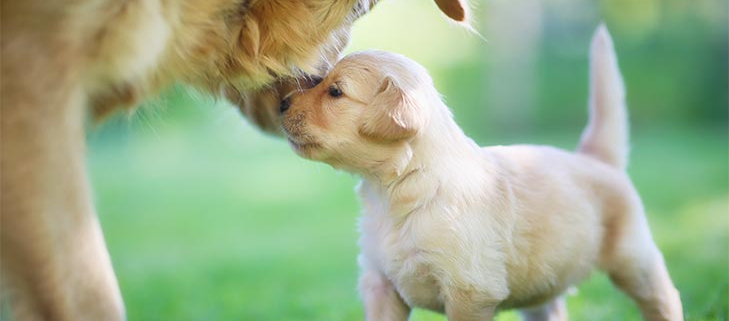 Introducing a Puppy to a Senior Dog
Getting a new puppy is an exhilarating feeling! Adding a puppy to a family with a senior dog can be quite the experience. Many people assume that the older dog will take a "caring" approach to a puppy, but that is not always the case. Expectations can be unrealistic, and we will explain why below.
Communication skills should be considered. Puppies are just learning how to communicate with one another. Learning to interact with older dogs may be challenging for a puppy. Puppies also have different play styles compared to adult dogs. Most puppies have energy that can last for long periods compared to adult dogs, who get exhausted quickly. Puppies also have poor social skills. If the adult dog's behavior is appropriate, the puppy will begin to learn its new house's rules. After a few weeks, play between the adult and puppy begins!
Supervision is essential when you introduce a puppy to a senior dog. The more you supervise, the fewer opportunities your old dog has to snap, bark, or growl at the puppy. Don't make your adult dog take whatever the puppy can dish out. This will not teach the puppy good manners and is a recipe for disaster! You must ensure that the puppy and the senior dog have an escape route and a "safe space" to get away from each other if necessary.
Do not punish your puppy or senior dog. It is going to be a learning experience for everyone involved. After a few weeks, you will notice harmony between the dog and the puppy. Please do your part to help your puppy develop communication skills, leading to a great relationship with the senior dog. Do not be disappointed if your senior dog does not take an immediate liking to the puppy. As long as there is enough love from the puppy and the adult dog, all will be well!
https://hotdogonaleash.com/wp-content/uploads/2022/09/Introducing-a-Puppy-to-a-Senior-Dog.jpg
486
729
Hot Dog on a Leash
https://www.hotdogonaleash.com/wp-content/uploads/2017/10/hdoal-300x247.png
Hot Dog on a Leash
2022-09-30 06:49:34
2022-09-30 06:51:55
Introducing a Puppy to a Senior Dog