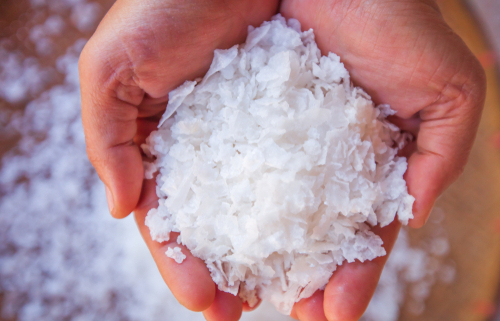 It's a season of doggy discontent!  With a higher chance of snow and ice, your dog can encounter rock salt along the way.  While it is certainly welcome to have the safety of good traction as you stroll though the snow, the salt isn't doing your dog any favors at all.  The tiny salt granules can irritate the paws and even cause harmful mouth and stomach issues if ingested.  Foremost, check to make sure that your dog is not limping at any time when you're out walking in the winter. If their skin is cracked and broken, the agony will be even worse because he's literally having salt rubbed into his wounds.
We have some tips that will help you avoid this distress.
Treat the feet! Consider treating the paws by rubbing them in a thin coat of balm or petroleum jelly before you venture outside.  This will help by adding an extra later of protection.
Dog Booties. These are a great way to keep the paws warm and shield them from salt, snow, and ice.  These slip-on shoes usually have a Velcro strap to keep them in place – just be sure not to make them too tight. Some dog booties also have tread surfaces on the soles to give him extra traction in slippery conditions.
Pick a new trail! If possible, alter your walking route in winter to steer clear of sidewalks and other places where rock salt has been used. Try to find a park or field where all you and your dog will encounter is pure, soft snow.
Wash often. Carry a towel with you with easy access to wipe snow, ice and salt off your dog's paws anytime it is necessary.  If your dog comes home with salt stuck to his paws, he'll be tempted to lick it off. This is a problem because most ice melters contain chemicals that can cause drooling, nausea, vomiting or diarrhea. Excessive intake can lead to liver damage, seizures, and even death.
Leave them inside! If you want your dog to be safely exercised and entertained while you're not around during winter months, consider enrolling them in Doggie Day Camp!
https://hotdogonaleash.com/wp-content/uploads/2021/02/Dog-Paw-Dangers-Rock-Salt.jpg
334
500
Hot Dog on a Leash
http://hotdogonaleash.com/wp-content/uploads/2017/10/hdoal-300x247.png
Hot Dog on a Leash
2021-03-10 06:26:05
2021-03-10 06:26:05
Dog Paw Dangers: Rock Salt