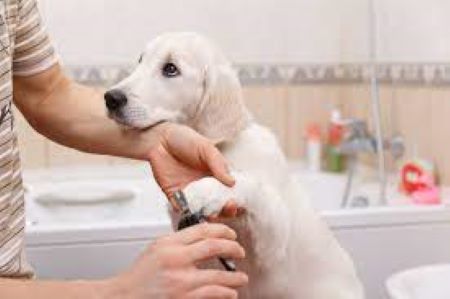 Coming up with an at-home grooming routine with your dog is easy and helps maintain their best health and quality of life.  Grooming at home also offers your dog more physical comfort, and lets you visually detect signs of potential issues which may require attention from your veterinarian.  There are several grooming techniques that you can complete in the comfort of your own home which will save you a lot of money as well.
Bathing – Dogs do not need baths as often as the rest of the family.  In fact, excessive bathing can dry out your dog's coat and skin.  How often you bathe your dog depends on things such as coat type, lifestyle, or specific health conditions.  Bathing can sometimes cause anxiety or frustration so you will need to be prepared for it all!  The key to a successful bath is preparation.  Make sure that all the bathing supplies are in the area.  Have the bath water ready and ensure that the temperature is comfortable.  Wash and condition the coat according to the instructions on the product labels.  When bathing is complete, towel dry your dog as much as possible before releasing them.
Brushing – Brushing is one of the easiest ways to bond with your dog. It helps cut down on shedding, and when you use the right brush, your dog might really enjoy it. Use the proper brushes, combs, or rakes, depending on your dog's breed. To get started, simply brush from head to toe, and get comfortable to make it a relaxing experience for the both of you.
Cleaning Ears – Ear health and cleanliness is super important for dogs.  Grab a cotton ball, vet-approved cleaning solution, dog ear cleaning wipes, and treats.  Use the cotton ball and solution, or the wipes,to wipe down all the visible skin that you can reach with it. Do not use the same cotton ball or wipe for both ears. This prevents spreading an infection if one ear is already infected. 
Dental Hygiene – Maintaining dental hygiene is important for your dog.  It helps cut down on bacteria, preventing infections and buildup that can lead to more serious issues.  As you are brushing your dog's teeth, be sure to check for swelling or discoloration.  Report any issues to the veterinarian.
Nail Trimming – This can be an intimidating task for some.  It is important that you find a comfortable spot and ensure that your pup is relaxed.  When trimming your dog's nails at home, be extremely careful not to cut the nail's quick. The quick has nerve endings and blood vessels that shouldn't be cut.
Grooming a dog at home can be challenging at first.  It will take patience and positivity to establish the routine.  However, completing these tasks at home may lessen the amount of anxiety in which your dog may experience.  Furthermore, it will be a huge money saver!
https://hotdogonaleash.com/wp-content/uploads/2021/11/Dog-Grooming-at-Home-1-1.jpg
299
450
Hot Dog on a Leash
https://www.hotdogonaleash.com/wp-content/uploads/2017/10/hdoal-300x247.png
Hot Dog on a Leash
2021-11-24 05:43:14
2021-11-24 05:43:14
Dog Grooming at Home