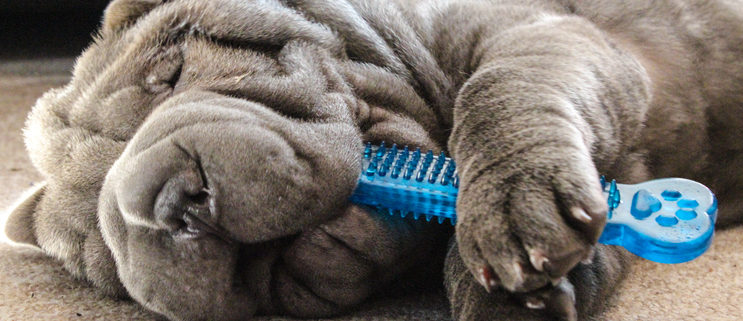 Buying toys for your Fur Baby… Sounds like a fun outing.  You go to your local pet store in search for the right toys, and what seemed like the perfect outing for you and your pet becomes a little more of a chore than fun.  There are hundreds of toys to chose from.  You want something fun for your dog, but something that will last.
The first step is figuring out what you want to use the toy for.  There are toys that I call "keep 'em occupied," toys that I call "interactive," and toys that are "supervision only."
Bearing in mind that all dogs get bored with the same toy, this can turn into quite an investment.  The right choices will help make the most of your dog's toys.  Tip: Don't give your dog all of his toys at once… I keep some of them hidden and rotate between the toys he/she is currently playing with and the toys that are put away.
Before we go further, I want to strongly warn against ever leaving your dog with any toy, especially stuffed toys, squeaky toys and the like.  These can be ingested and cause serious health risks to your dog.
(All Brand names mentioned are what I use, and are for reference only.  No product guarantees are implied) Now, for the suggestions…
The "keep 'em occupied" toys:  The most popular are the "KONG" dog toys.  I have had real personal success with these.  I fill them with my preferred treats (use what works for your dog) and it tends to keep them busy for quite a while.  I will sometimes freeze the "KONG" with the treats inside, so it lasts a little longer.  The other toy I use in this category is "Nylabone."  I like the "Durachew"  for older dogs and will soak them in chicken stock. Tip: For puppies, you can get the puppy chews and freeze them.  It is helpful for teething puppies.
The "interactive" toys: I have a few favorites.  The first is the good 'ole fashioned tennis ball.  I am a big fan of playing fetch.  This engages your dog with you and is great exercise as well.  The second favorite that I have is a strong rope type toy.  There are several out there that are good for a game of tug.  If you are going to play tug, however, you need to teach clear boundaries as to when the dog needs to release the toy to you. My last favorite is a doggie Frisbee.  These are also very fun for retrieval and a great tool for teaching tricks.
The "supervision only" toys:  These are toys that are stuffed and squeak.  These represent prey to your dog and usually are the first to need stitching or wind up in the trash.  I still like to give these to my dogs occasionally just to watch them play.  Play with your dog and these toys must be supervised and the toy removed when play time is over.
https://hotdogonaleash.com/wp-content/uploads/2016/11/What-Toys-to-Buy-Your-Pet.jpg
470
743
bruce
https://www.hotdogonaleash.com/wp-content/uploads/2017/10/hdoal-300x247.png
bruce
2016-11-29 23:57:08
2019-05-02 04:54:17
What Toys to Buy Your Pet