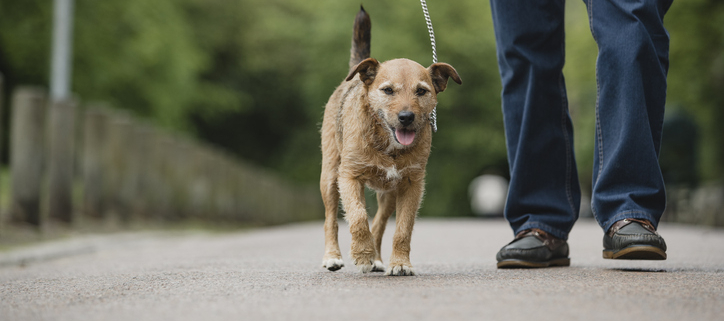 How do you keep an older dog fit and active?  We're here to help!
Enjoy a nice walk around the neighborhood. A daily walk is recommended for all dogs regardless of age. Your older dog may not be able to jog a few miles with you anymore, but you can still enjoy a low-impact stroll.
Take it slow! Just like humans, it takes dogs time to get used to new routines. It's never a good idea to jump head first into any given exercise as it may result in injury.  Take it slow by paying close attention to their progress and increase the activity over time.  For example, you can start walking your dog on a flat surface.  If they do well with that, you can add hills to the mix for some added resistance training.
Keep it low-impact. Arthritis is very common in many senior dogs. Low-impact exercises such as walking and swimming are perfect for dogs with mobility issues.  Avoid exercises which require the dog to run or jump as this can cause injury.
Mental exercises are just as important. Never underestimate the power of the brain, especially of a senior dog. Add in a few extra games and activities for your dog to enjoy indoors.
Consistency is key. Keep track of the amount of intensity your dog gets every day.  For example, if they are used to a 30 minute walk every day, it wouldn't be a good idea to advance to a 60 minute walk.  Work your way up and pay close attention to their limitations!
We hope that you will take our tips and apply them to your senior dog routine.  Feel free to contact your Veterinarian for additional input and ideas on how to increase activity!
https://hotdogonaleash.com/wp-content/uploads/2020/09/Tips-for-Exercising-Senior-Dogs.jpg
483
724
Hot Dog on a Leash
http://hotdogonaleash.com/wp-content/uploads/2017/10/hdoal-300x247.png
Hot Dog on a Leash
2020-09-17 06:45:23
2020-10-06 00:41:13
Tips for Exercising Senior Dogs