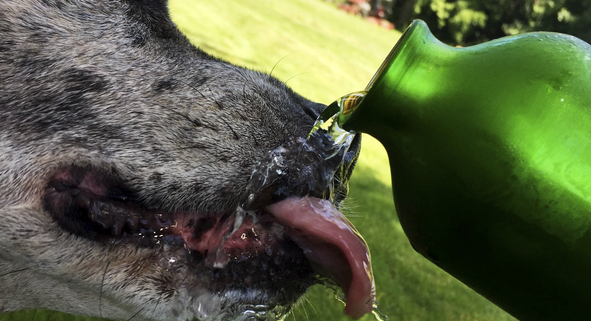 As a pet parent, you must be smart and proactive!  Here are 5 tips for helping your pet maintain their body temperature and avoid heat stroke:
NEVER leave your pet in a parked car, even if you are only gone for a short amount of time. The temperature inside a car can get extremely hot within minutes, even reaching over 140 degrees. Just think, that "quick" errand can harm your pet in more ways than one!
Allow your dog to run through a sprinkler, take a dip in the pool or even get sprayed by the hose! This will help bring body temperatures down.
Always remember that surfaces like asphalt and cement are extremely hot to the dog's paws. Walking your dog on a hot surface such as this will increase body temperature. Try walking your dog in a shaded area!
Always, always, always have fresh water available for your pet. This will keep the dog hydrated which will lessen the likelihood of heat stroke.
Grooming your dog according to the weather will help prevent overheating.
Tuesday's Treat: Almond Banana Dog Treats
Just like humans, dogs get tired of the same old treats.  Check back every Tuesday where we feature a new and exciting dog treat recipe.  This week, we introduce Almond Banana Dog Treats. What's great about this recipe is that it's super simple to make – only 4 ingredients!
What you'll need is one egg, ¾ cup unsalted almond butter, 1/3 banana and a teaspoon of cinnamon.  Mix the ingredients, roll into individual treats, and place in the oven at 350 degrees for 7-10 minutes.  It's that easy!  Your dog will love you and your kitchen will smell amazing too.
https://hotdogonaleash.com/wp-content/uploads/2020/07/Summer-101-Preventing-Overheating-Potential-Heat-Stroke.jpg
591
591
Hot Dog on a Leash
https://www.hotdogonaleash.com/wp-content/uploads/2017/10/hdoal-300x247.png
Hot Dog on a Leash
2020-07-30 07:32:59
2020-10-06 00:41:17
Summer 101: Preventing Overheating & Potential Heat Stroke