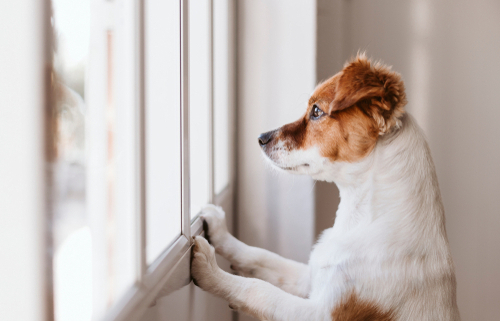 Never underestimate stress and anxiety when you leave your four-legged friend at home alone.  There are many emotions that dogs may experience when you leave the house.  Think about loneliness, boredom, and anxiety – just to name a few!  Follow our tips below to ensure that your dog's time alone at home is a success.
Mentally Stimulating Toys – Preparation is key when it comes to ensuring that your dog has fun while you are away from the house.  Treat puzzle games and activity toys are ways for your dog to stay busy and gain mental stimulation at the same time.  It's a win-win for sure!
Physical Activities Before Leaving the House – One huge tip that we recommend is that you take your dog on a long walk before you leave the house.  They should be tired from the exercise which will ideally put them in a state of relaxation before you leave the house.
Know Your Dog – Realize that each breed is different.  Some breeds require more mental stimulation and other breeds are relaxed.  It is important to know your breed so that you can cater to them in the best manner.
Limit Excitement – Do not make a big deal about leaving the house.  Minimize contact with your dog.
With consistency, exercise, and mental stimulation, you can teach your four-legged friend to behave while you are away from home.  As always, praise your dog when you arrive back at home!
https://hotdogonaleash.com/wp-content/uploads/2021/10/Leaving-Your-Dog-Home-Alone-–-Tips-for-Success-.jpg
334
500
Hot Dog on a Leash
https://www.hotdogonaleash.com/wp-content/uploads/2017/10/hdoal-300x247.png
Hot Dog on a Leash
2021-11-01 08:06:59
2021-11-01 08:06:59
Leaving Your Dog Home Alone – Tips for Success