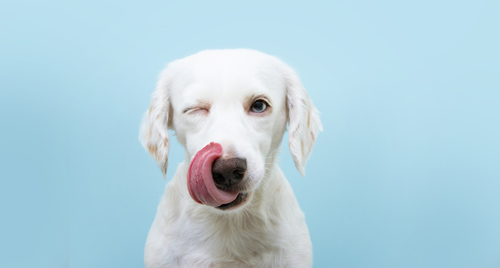 To no surprise, our four-legged friends use their sense of taste and other senses to explore the world around them. There are times that dogs will eat just about anything. On the other hand, you may discover that certain dogs are picky when it comes to their food. You may be wondering how they determine what tastes good to them. Do dogs have taste buds?  
The answer is "yes." Dogs have taste buds that allow them to taste things. Interestingly, the taste buds are found on papillae, which are small, visible bumps on the tongue. One of the most interesting facts is that dogs have about 1,700 taste buds, while human mouths have approximately 9,000. Puppies develop their ability to taste after a few weeks of life. This is one of the earlier senses that develops, even before hearing and vision.
Each taste bud can sense all tastes if the flavor is strong enough. You should know that some taste buds on the tongue are more sensitive to certain flavors than others. For example, sweet and salty taste buds are found toward the front of the tongue, while bitter and sour taste buds are located toward the back of the tongue. Dogs also have specific taste receptors that are fine-tuned to meats, fats, and meat-related chemicals due to their ancestral diet being primarily composed of meat.
You may be wondering what tastes terrible to dogs. Our four-legged friends generally avoid spicy, sour, salty, or bitter tastes. Many of these may be unsafe to eat. Keep in mind that toxins or spoilage from bacterial contamination will cause food to taste bad for dogs. Finally, the taste is linked to smell. An item's scent can enhance its taste. The smell of a food item plays a huge role in how dogs experience the flavor of their food!
https://hotdogonaleash.com/wp-content/uploads/2022/05/Do-Dogs-Have-Taste-Buds-.jpg
268
500
Hot Dog on a Leash
https://www.hotdogonaleash.com/wp-content/uploads/2017/10/hdoal-300x247.png
Hot Dog on a Leash
2022-05-18 06:42:50
2022-05-18 06:42:50
Do Dogs Have Taste Buds?