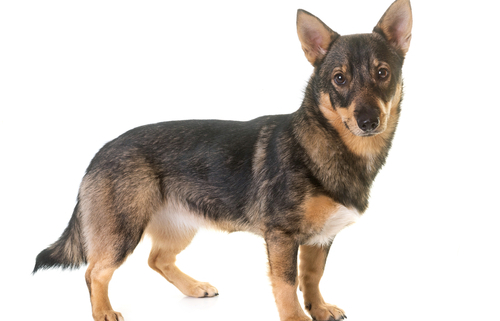 Welcome to our Spotlight Breed article of the week.  This is where we feature one of the most unique dog breeds around the globe.  Today we are excited to spotlight the Swedish Vallhund.  This breed is an intelligent and alert companion.  They are active dogs who need active pet parents, which is why we do not suggest a novice owner.
The all-around friendliness of the Vallhund is a 5-star!  They are affectionate with family.  This breed can form a close bond with their "pack" which will allow them to bond more easily.  One of the best things about the Vallhund is that they are wonderful with children.  They can be gentle, but sturdy enough to handle any "heavy hugs" which may come their way.  This breed is truly one that has never met a stranger.  They will greet new people with wagging tails with the sense of "please pet me now!"
The Vallhund is easy to train.  They are more adept at forming an association between a prompt, an action, and a consequence very quickly.  Watch out though.  This breed is very intelligent and often has a "what's in it for me?" attitude.  You will need to use some rewards or praise to make it worthwhile to them.
The Swedish Vallhund is a high-energy dog who is always waiting for action!  This is because they were originally bred to perform a canine job.  They need a significant amount of exercise and mental stimulation to keep them going.  This breed is ideal for an experienced dog owner who is willing to put in the extra work to keep the breed satisfied.  We will leave you with one of our favorite quotes about the Vallhund: "Always be yourself.  Unless you can be a Swedish Vallhund.  Then definitely be a Swedish Vallhund!"  
https://hotdogonaleash.com/wp-content/uploads/2021/09/Spotlight-Breed-Swedish-Vallhund-.jpg
395
500
Hot Dog on a Leash
https://www.hotdogonaleash.com/wp-content/uploads/2017/10/hdoal-300x247.png
Hot Dog on a Leash
2021-09-22 07:09:29
2021-09-22 07:09:29
Spotlight Breed: Swedish Vallhund