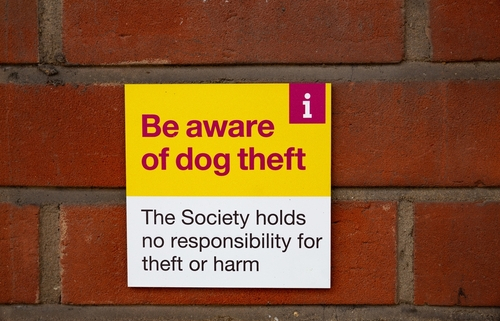 As we go through life, we place high focus on taking the necessary precautions to safeguard our most valuable possessions and protect them from being stolen. You may be thinking of things like electronics, jewelry, and/or antiques. Many people fail to realize that pets are prone to potential theft as well. This may be known as "dognapping". A shocking study revealed that there are over 2 million dogs stolen each year! If a criminal sees your dog as a quick and easy way to make money, you are at risk. Let's dive deeper into the issue at hand.
The first thing that we will address is something known as dog flipping. This occurs when someone takes dogs away from their owners' homes or offices, claims to be a lost dog's owner, or gets a dog from a shelter with the intention of reselling the pup for a quick profit. Most of the time, high-value dogs (bulldogs, French bulldogs, chihuahuas, and Yorkshire terriers to name a few) are at risk. However, it is important to know that all dogs can be subject to theft.
You may be wondering how a thief can steal a dog. It is a lot easier than people think. You should never leave your dog alone in the car. If a thief wants your dog, they will do almost anything to get their hands on it. This may involve smashing a car window to gain access to your pup! Also, if your backyard is accessible or visible to strangers, it is important to keep a close eye on your pup. Dognapping may also occur if you are out on a walk with your pup. You just never know what criminals are capable of.
The danger to your dog is real, but the good news is that there are ways to safeguard your dog. It is important to make sure that your dog is microchipped and that the contact information on file is up to date. You will also need to keep a close eye on your dog and make sure that they are never alone. If your dog is stolen, report the theft to police immediately. Make a call to the microchip company, get the word out on social media, and post fliers around town. Knowing the different scenarios in which thieves can prey upon your dog will allow you to safeguard your four-legged friend from potential danger.
https://hotdogonaleash.com/wp-content/uploads/2022/06/Keeping-Your-Dog-Safe-from-Theft-.jpg
334
500
Hot Dog on a Leash
https://www.hotdogonaleash.com/wp-content/uploads/2017/10/hdoal-300x247.png
Hot Dog on a Leash
2022-06-24 07:10:46
2022-06-24 07:10:46
Keeping Your Dog Safe from Theft