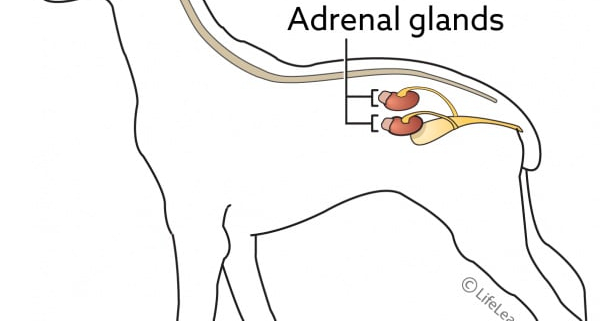 Addison's disease is a hormonal disorder affecting dogs' adrenal glands. This disease is also known as hypoadrenocorticism because the adrenals release too-low levels of these hormones. The affected glands are responsible for releasing essential hormones like cortisol, a stress hormone, and aldosterone, a hormone that helps regulate levels of potassium and sodium in the body.
An autoimmune response causes Addison's disease. Your dog's immune system can attack the adrenal glands and cause the disease. In some cases, infection and trauma can result in Addison's. Adrenal gland tumors can significantly affect the way that the adrenal gland functions.
This disease may be difficult to diagnose because of various symptoms. However, the most common signs are lethargy, diarrhea, vomiting, increased thirst, and frequent urination. Dogs will eventually lose weight, and their muscles will start to shrivel. In addition, dogs may have a slow heart rate and a weak pulse. Dogs with Addison's disease usually have a very dry and brittle coat.
Is your dog experiencing any of the symptoms that were mentioned above? If so, please schedule an appointment with your veterinarian right away. Several tests may be run to rule out other underlying causes for your dog's illness. Steroids are administered for dogs with Addison's disease. Once treatment is initiated, your dog will need to be rechecked after the first ten days and then again one month later. Regular visits to your vet and routine lab work are essential for monitoring and ensuring your dog's hormone levels are balanced.
https://hotdogonaleash.com/wp-content/uploads/2022/11/Addisons-Disease-in-Dogs.jpg
560
600
Hot Dog on a Leash
https://www.hotdogonaleash.com/wp-content/uploads/2017/10/hdoal-300x247.png
Hot Dog on a Leash
2022-11-23 05:29:11
2022-11-23 05:29:11
Addison's Disease in Dogs