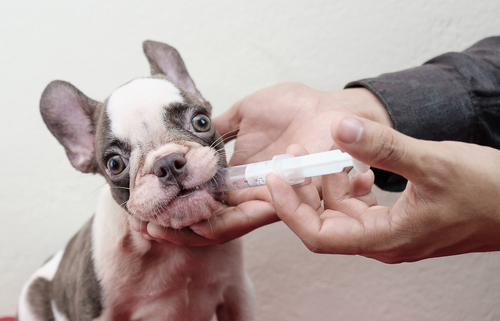 Tips for Giving Your Dog Their Pills
There are times where you will need to administer pills to your four-legged friend.  Certain dogs may need additional encouragement.  Our tips for giving your dog a pill will make the process more pleasant for all parties involved!
Pill Pockets – It may be helpful to "trick" your pup.  You can put the pill in a pill pocket or even wrap it in a piece of meat or cheese.  This will help the pill go down with ease!
Liquid Medications – This is a great alternative for dogs who do not like to swallow their pills.  Just keep in mind that these medications can be more expensive.
Pill Device – Administering pills to your dog can pose certain risks. For instance, in order to get the pill far enough back on your dog's tongue for him to swallow, you need to put your fingers in his mouth. This can lead to accidental bites. Pill devices place the medication in your dog's mouth, so that you don't have to expose your fingers to danger.
As you can see, there are a variety of ways in which you can administer pills to your four-legged friend.  The last think you want is to make the process stressful.  Be sure to reward your dog with a small treat after every pill and do your best to keep both of you calm, no matter how frustrated you get.  As always, you can ask your veterinarian for assistance!
https://hotdogonaleash.com/wp-content/uploads/2021/06/Tips-for-Giving-Your-Dog-Their-Pills.jpg
357
500
Hot Dog on a Leash
https://www.hotdogonaleash.com/wp-content/uploads/2017/10/hdoal-300x247.png
Hot Dog on a Leash
2021-07-14 11:01:02
2021-07-14 11:01:59
Tips for Giving Your Dog Their Pills