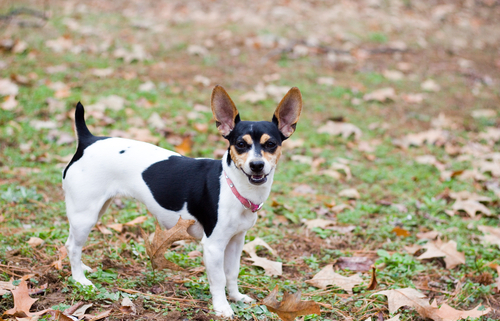 Spotlight Breed: Rat Terrier
Welcome to our Spotlight Breed article of the week!  This is where we feature one of the most interesting dog breeds from around the globe.  Today we are excited to spotlight the Rat Terrier!  This is one of the most stubborn dog breeds that you will ever meet.  Don't let that turn you off though!  Rat Terriers are also funny, energetic, and loveable.  There are so many more interesting characteristics to note about this breed.  Please continue reading on to learn more!
Let's start with a fun fact about this breed.  It has been said that President Theodore Roosevelt gave the breed its name after his own terrier had eradicated the rat infestation at the White House!  Now you understand where the "rat" came from.  The good thing about this breed is that they adapt well to apartment living.  Not just because they are small, but they can behave well, especially if trained correctly.
The all-around friendliness of the breed is fair.  They are affectionate with family, children, and strangers.  There may be some issues when they face other dogs for the first time.  One thing that we need to keep in mind is that friendliness toward dogs and friendliness toward humans are two totally different ideas!  This is when socialization training will benefit the rat terrier.  It will help them feel more comfortable around other dogs.
Rat terriers can be easy to train.  They have the ability of forming an association between a prompt, an action, and a consequence quickly.  They do tend to bark and howl so you will need to be patient with them.  If you are looking for a dog breed who loves to love, play, and have a great time, the rat terrier may be for you!  We will leave you with a fun quote about the breed: "Every snack you make. Every meal you bake. Every bite you take. I'll be watching you!" 
https://hotdogonaleash.com/wp-content/uploads/2021/10/Spotlight-Breed-Rat-Terrier.jpg
334
500
Hot Dog on a Leash
https://www.hotdogonaleash.com/wp-content/uploads/2017/10/hdoal-300x247.png
Hot Dog on a Leash
2021-10-28 08:11:47
2021-10-28 08:11:47
Spotlight Breed: Rat Terrier