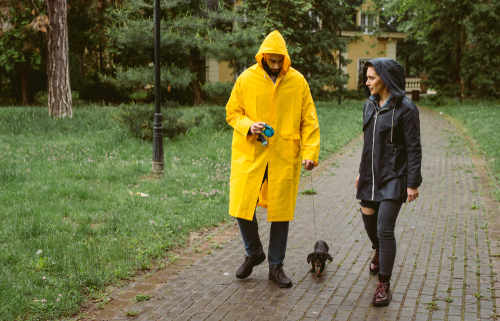 A lot of people don't realize that a rainy day can affect your dog in many different ways, causing them to have rainy day blues just as humans do.  Everything from the sound of the rain (and possible thunder – yikes!) to the moisture in the environment, it can affect your dogs.  We have compiled a list of reasons why your dog may be acting weird when it rains.
Lack of Exercise. Let's face it. Pet owners are not overly thrilled to walk their dogs in the rain. Even if you have a fenced in yard, pet owners are less likely to let their dogs roam while it's raining. Dogs may associate rain with a negative feeling.  It is easy for your dog to get bored, especially when they are used to a certain routine.  Be sure to keep them occupied inside with their favorite chew toy, bone or stimulation game!
Sound. Did you know that dogs can hear four times stronger than humans can? Think about that for a second. The sound of thunder is multiplied to them making it much louder.  This increase in noise can cause anxiety in dogs.  In fact, a study found that over 30% of dogs are afraid of thunderstorms.  Always comfort your dog in the time of need.
Smells. We have all experienced the wet dog smell. This is caused by the moisture in the air. What happens is that the water vapor holds onto the scent modules longer causing the smells to be stronger and last longer.  If you're dog loves to smell for wild animals, they will love the rain because their scents will be easier to follow!
Dirty Paws. Most dogs (emphasis on most) dogs hate to get wets. When it rains, everything becomes wet.  The grass is wet which causes their paws to get dirty.  Puddles are everywhere.  Mud, dirt and whatever else is tracked into the house if you are not careful.  We recommend that you wipe paws before dogs enter the house.  Otherwise, try a heavy duty mat.
Static Electricity. Believe it or not, dogs can experience static electricity in their coats. An article on Rover stated, "Dogs may experience numerous shocks from static electricity during thunderstorms." Dogs will often run to areas that are grounded to stop the shock feeling. There are vests and jackets on the market which help prevent your dog from feeling like he has static electricity in his fur.
Hopefully our article has helped you understand why your dog is acting so strange when it rains.  Always use your best judgment to find the best solution until the "storm passes".
https://hotdogonaleash.com/wp-content/uploads/2020/10/Rain-Rain-Go-Away-How-Rain-Affects-Your-Dog.jpg
334
500
Hot Dog on a Leash
http://hotdogonaleash.com/wp-content/uploads/2017/10/hdoal-300x247.png
Hot Dog on a Leash
2020-10-19 06:52:50
2020-10-19 06:52:50
Rain, Rain Go Away! How Rain Affects Your Dog