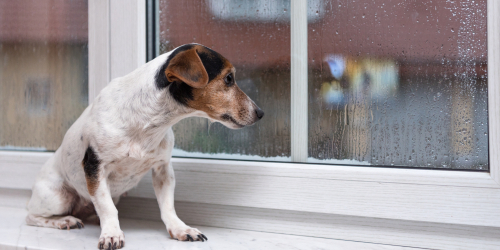 The Covid-19 pandemic has allowed our dogs to become accustomed to their favorite humans being around 24/7.  Although this has been wonderful for both the owner and the dog, it also creates some new concerns.  Separation anxiety in pets is increasing as people are returning to work or leaving their house more often.  With this being said, we've created a list of helpful tips to transition your dog back to more independent living.
Ease in. Introduce alone time in short periods. For example, you can close the door when using the restroom, take out the trash for brief times, or run a quick errand.  If you are working from home, ensure that your dog is in a separate room for a few hours a day.
Stay strong. While it may break your heart when your dog is whining, do not give in. Wait until they calm down for a period, and then praise them with a calm tone of voice.
Staying active. It is best that you exercise your pet if you know that you will be gone for a longer period of time. Go for a walk.  Play fetch.  If they are worn out, it is likely that they will take a long nap.
Leaving or coming home? No big deal. Do not make a big deal when you are leaving or coming back to the house. Over time, your dog will become for comfortable and know for certain that you will be coming back.
https://hotdogonaleash.com/wp-content/uploads/2020/10/shutterstock_1593263491.jpg
250
500
Hot Dog on a Leash
http://hotdogonaleash.com/wp-content/uploads/2017/10/hdoal-300x247.png
Hot Dog on a Leash
2020-10-16 07:09:03
2020-10-16 07:09:03
Separation Anxiety in Dogs