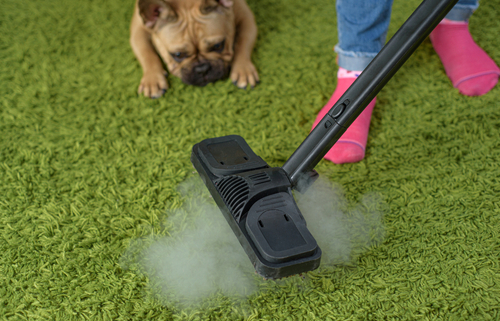 Accidents happen!  There is no way around it and we must do our best to remain patient with our pups.  If your dog has an accident indoors, do not panic, even if you are faced with bad carpet odors due to urine.  Of course, you will need to avoid establishing behaviors that create the habit of eliminating indoors and take your pup outside to potty as much as possible.  Continue reading on to learn how to get dog urine out of the carpet to prevent that horrible smell from happening in the first place.
Dog urine gets absorbed into the carpet and can damage the carpet fibers with its acid.  Alkaline residue occurs when the urine dries under the carpet. This can create horrible smells!  Keep in mind that if urine salts are not cleaned up with a professional pet cleaning product, this may result in a dog urine odor for many years.  Follow our steps below to combat the urine at first sight.
Dry the carpet.  This is very important.  If the area is wet, grab a clean towel to absorb the extra moisture.  Otherwise, the urine will continue to sink down into the carpet.
Apply a vinegar solution.  Create a solution that is one part vinegar and one part water.  Mix the two together in a container.  Pour the solution over the area, lightly scrub it, and let the area dry completely.
Apply baking soda.  This will remove the smell!  Let the area deodorize for 24 hours.
Add hydrogen peroxide and dish detergent.  Mix one part water, one part hydrogen peroxide, and a small amount of dish detergent.  Pour over the baking soda and gently scrub the stain.
Vacuum the affected area on your carpet to remove any substances that remain.
If the odor remains after you complete those steps, you will have to replace the carpet after sealing the odor in the wooden subfloor or call a professional carpet cleaner.  It is important to be aware of the accidents when they occur so that you can address them immediately.
https://hotdogonaleash.com/wp-content/uploads/2021/10/Getting-Rid-of-Urine-Smell-from-Carpets-.jpg
334
500
Hot Dog on a Leash
https://www.hotdogonaleash.com/wp-content/uploads/2017/10/hdoal-300x247.png
Hot Dog on a Leash
2021-10-18 07:24:55
2021-10-18 07:24:55
Getting Rid of Urine Smell from Carpets