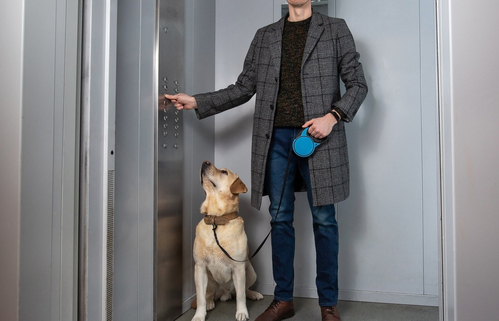 Dogs & Elevators – Tips for a Calm Ride 
For a dog, the elevator can be a frightening place and they may react differently because of the fear. If your dog has already developed a fear of elevators, forcing them to ride one won't do any good. You will discover that they will be terrified and frustrated. We want to provide you with some tips on how you can cure your dog's fear of elevators.
Stand with your dog outside the elevator and press the button.
As soon as the elevator arrives to your floor and makes the "ding" sound, give your dog some verbal praise along with a treat. This will help curb any negative association with the noise the elevator makes.
Wait until the elevator door opens and walk calmly inside. You may need to tug on your dog's leash to encourage them to follow you.
Press the "door open" button to prevent the elevator door from closing. Stay in the elevator for a second or two and then calmly exit. This will help your dog realize that the elevator is not a bad place.
Once you've left the elevator, praise your dog, and give them a small treat.
Repeat the sequence a few times until your dog is a little bit calmer entering and exiting the elevator.
You will need to be patient and consistent as you work with your dog to cure them of their fear of elevators. It is important that you display a sense of calmness to let your dog know that the elevator is okay. If your dog reacts with fear the first couple of times you run this sequence, do not coddle them. Continue to work through the steps and you will find success in no time!
https://hotdogonaleash.com/wp-content/uploads/2022/02/Dogs-Elevators-–-Tips-for-a-Calm-Ride-.jpg
500
499
Hot Dog on a Leash
https://www.hotdogonaleash.com/wp-content/uploads/2017/10/hdoal-300x247.png
Hot Dog on a Leash
2022-02-28 07:42:18
2022-02-28 07:42:18
Dogs & Elevators – Tips for a Calm Ride