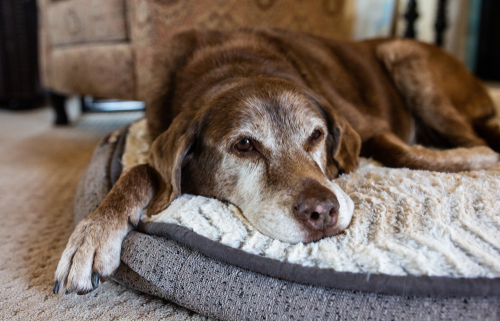 We have heard over the years that a dog year is equal to 7 years.  Researchers have produced a new equation to calculate your dog's age in human years.  The math isn't as simple as multiplying your dog's age by 7.  In fact, that myth has been debunked!  The new equation takes your dog's DNA and chemical changes into consideration when determining their age.
Research shows that mammals progress through similar physiological stages during life, from early development to puberty, aging and death.  It is unclear if dogs go through the same molecular changes in the body at a similar rate.  The researchers looked at DNA methylation, the attachment of a group of three hydrogens and one carbon onto parts of a DNA molecule, which can serve as a sign of aging.
The researchers discovered that 8 weeks in dogs corresponded to 9 months in humans, when both species started growing tiny teeth.  The average life span of the retrievers, 12 years, corresponded with the worldwide lifetime expectancy of humans, which is 70 years.  However, when it comes to adolescent and mature dogs, the relationship was "more approximate".  These dogs aged a bit faster compared to adolescent and adult humans.
We are sure that you are wondering about the actual equation that researchers produced to determine a dog's age.  You will need to take the natural log of the dog's age, multiply by 16 and then add 31.  Keep in mind that this calculation was based off a single breed. Many breeds have different rates of aging!
https://hotdogonaleash.com/wp-content/uploads/2021/11/Dog-Years-–-A-Total-Myth-.jpg
334
500
Hot Dog on a Leash
https://www.hotdogonaleash.com/wp-content/uploads/2017/10/hdoal-300x247.png
Hot Dog on a Leash
2021-11-29 05:52:06
2021-11-29 05:52:06
Dog Years – A Total Myth!