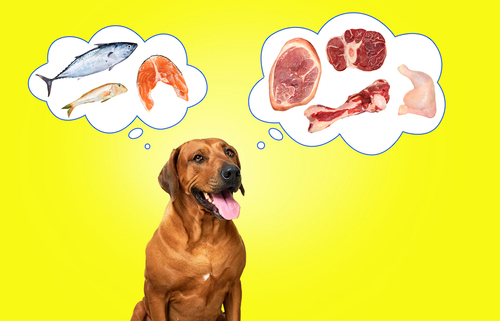 There are some pet owners out there who have reservations about giving their dog food where the primary protein is derived from fish. Many people wonder how this type of pet food compares to the ones that have meat in them. There are several advantages when it comes to feeding your dog a seafood-based diet. Let's dig deeper into the topic.
To start with, fish and fish meal are very rich in protein. In fact, when you look at the biological value of fish, which measures the amount of available amino acids in a food, we see that fish meal is very high on the scale. It comes in at a value of around 92 to 100! Amino acids are a huge necessity when it comes to keeping your dog healthy, active, and long lived. In fact, dogs that do not get enough of essential amino acids in their diets can have a range of various health concerns, including impaired immune systems and problems with their skins and coats.
Fish, and dog food which contains fish, can have an especially high level of omega-3 fatty acids, which is why people give fish oil to dogs and cats. This is another nutrient that is key to your dog's overall health and skin. Even if you decide to skip the fish-based diet for your dog, you should still consider giving them a supplement with additional omega-3s in the form of fish oil. They will reap the benefits if you choose to go this route.
Let it be known that there may be disadvantages of a fish-based diet for your dog. Although many dogs enjoy the taste of seafood, a dog cannot get all their nutritional needs through fish alone. Note: dog foods labeled "fish formula" or "fish recipe" will contain other meats and proteins besides fish. These other protein sources help to make the food more nutritionally balanced. A more serious charge against fish-based meals is the possibility that the fish may have high levels of metals in their systems. This may cause harm to your dog's system.
The information stated above is for informational purposes only and is not meant to be a substitute for professional advice.  As always, we recommend that you speak with your veterinarian to determine the best diet for your four-legged friend.
https://hotdogonaleash.com/wp-content/uploads/2022/01/Dog-Foods-Is-Fish-Better-than-Meat-.jpg
334
500
Hot Dog on a Leash
https://www.hotdogonaleash.com/wp-content/uploads/2017/10/hdoal-300x247.png
Hot Dog on a Leash
2022-01-20 05:43:52
2022-01-20 05:43:52
Dog Foods: Is Fish Better than Meat?