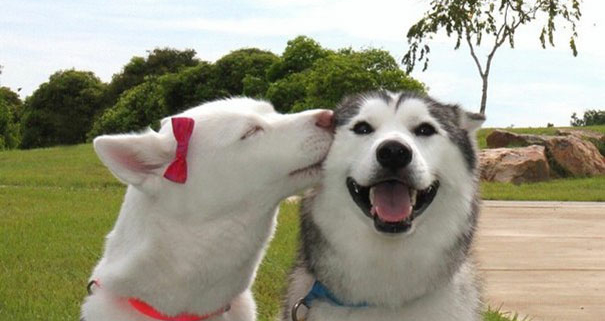 We all know that adopting two dogs requires extra work.  However, there are many benefits and rewards when you provide two dogs with a new home.  If you have a dog that enjoys the company of another, this may be a great option for both you and your pet.  Multiple dogs can benefit from each other and their new family will benefit from the bond that they will build with each other as well.  We have created a list of three benefits of having two dogs.
Preventing Loneliness and Boredom.  Socialization is an important part of the mental and physical growth of dogs.  Your pets will have the opportunity to play together, which means that they won't get bored if you are sleeping or working.  They will never be alone which means they will always have that mental and physical stimulation.  Having two pets means more companionship for the people in your family, too.  Each pet has their own personality, and your family will enjoy getting to know each dog as an individual.
Exercise Buddies.  In addition to boosting mental health, having a companion also improves your pet's physical health.  As dogs grow older, lack of exercise could cause various medical problems.  Having multiple dogs will ensure that they are getting the physical exercise that they need to stay strong and healthy.
Emotional Bonds.  Pets form such a strong bond with each other.  This bond is beautiful, pure, and strong.  It can bring so much joy to the home.  There is nothing better than seeing your dogs cuddle up to one another.  It is seriously unconditional love at its finest.
 As you can see, having two dogs can provide so many benefits, not only to the dogs, but the entire family.  It is important to ensure that the dogs are a good fit for each other as we all know that not all dogs get along.  A formal meet and greet will help you determine if the two dogs are a good match!
https://hotdogonaleash.com/wp-content/uploads/2021/11/Benefits-of-Having-Two-Dogs-.jpg
605
605
Hot Dog on a Leash
https://www.hotdogonaleash.com/wp-content/uploads/2017/10/hdoal-300x247.png
Hot Dog on a Leash
2021-11-25 05:52:26
2021-11-25 05:52:26
Benefits of Having Two Dogs