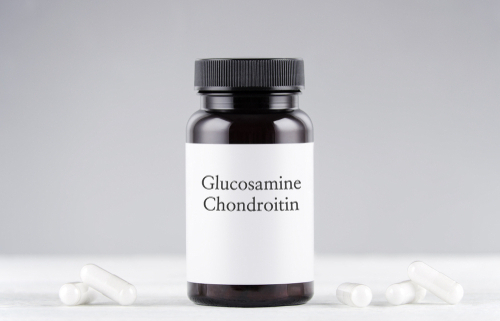 From running to playing fetch to swimming around in the pool, dogs can be extremely active!  Although good for the overall health, these types of activities can take a toll on their joints as they age.  Over time, the lubrication and cushioning between the bones of dogs and humans alike wear down at the joints, usually due to age, trauma or disease.  You are probably wondering what pet owners can do to supplement your dog's healthcare routine.  The answer is glucosamine.
Glucosamine is one of the most used supplements for hip and joint support in dogs.  The supplement is a component of synovial fluid and cartilage.  As the cartilage in your dog wears down over time, so does the production of glucosamine.  Glucosamine found in supplements helps maintain synovial fluid that lubricates joints and helps cushion cartilage.
Many scientific studies around the globe would agree that glucosamine is beneficial to dogs.  In fact, additional studies reported that the supplement may slow down the progression of arthritis.  Glucosamine may also help lubricate joints and stimulate the production of proteoglycans, which help maintain the health and resiliency of joints and connective tissue.
When is a good time to start your dogs on glucosamine?  When common symptoms for joint and hip problems occur:
Difficulty trying to sit down or stand up
Struggling to jump in the car
Limping
Favoring a leg
Lifting a limb in the air
Swollen joints
Audible popping or cracking in the hips
We recommend that you take your dog to the veterinarian if they are experiencing any of these symptoms.  It may be a natural part of growth and aging, but it never hurts to check!  Glucosamine can be given to dogs in a variety of forms such as: their normal dog food (check the ingredients!), chewy treats and/or liquid.  Either way, you and your dog will experience the any benefits of the supplement!
https://hotdogonaleash.com/wp-content/uploads/2020/11/Glucosamine-for-Dogs.jpg
334
500
Hot Dog on a Leash
http://hotdogonaleash.com/wp-content/uploads/2017/10/hdoal-300x247.png
Hot Dog on a Leash
2020-11-25 05:53:30
2020-11-25 05:53:30
Glucosamine for Dogs