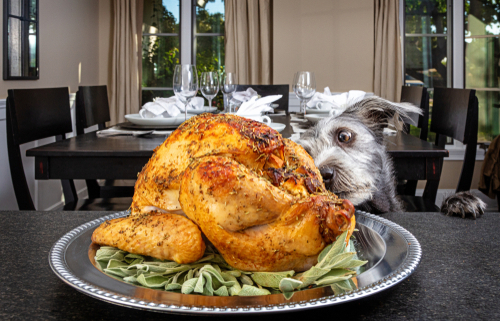 Thanksgiving Treats You Can Share with Your Dog! 
Thanksgiving is right around the corner! Unfortunately, accidental poisonings occur in dogs as they love to counter-surf and get into things that they shouldn't. To be safe, you should always pay close attention to your dog while you are preparing your Thanksgiving feast. We came up with a list of tasty Thanksgiving treats that you can give your four-legged friend during the holiday. Check it out below!
Turkey – This is safe for your pup if they do not have any food allergies. Avoid the fat though! You do not want to give them trimming, turkey skin, or gravy. The good thing about turkey is that it is high in protein.
Vegetables – These provide a low-calorie, high-fiber snack for dogs and will make them feel full. Think about sweet potatoes, carrots, green beans, and broccoli.
Bread – A small piece of bread is a safe snack for dogs. The good thing is that it provides a low-calorie filler for them. If the bread is homemade, make sure that it is baked all the way. Otherwise, the carbon dioxide and ethanol will upset the dog's stomach.
Cheese – A small amount of cheese is fine. Do not overdo it though. Your dog may suffer constipation if given too much cheese.
Stuffing – This may come as a surprise to many people! You can give your dog stuffing if it does not have onions, garlic, or raisins in it! Dogs love this because of the meat flavor in the breadcrumbs.
This Thanksgiving, show thanks for your friendship by giving a small treat to your dog. They should be able to enjoy the holiday just as much as we do. Happy Thanksgiving from Hot Dog on a Leash!
https://hotdogonaleash.com/wp-content/uploads/2022/04/Thanksgiving-Treats-You-Can-Share-with-Your-Dog-.jpg
334
500
Hot Dog on a Leash
https://www.hotdogonaleash.com/wp-content/uploads/2017/10/hdoal-300x247.png
Hot Dog on a Leash
2021-11-25 08:19:59
2022-04-25 08:24:04
Thanksgiving Treats You Can Share with Your Dog!