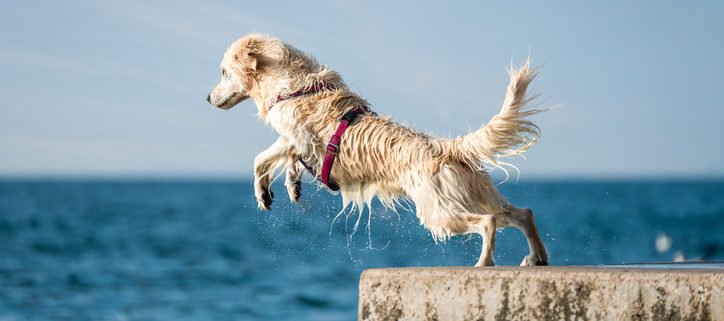 Dock jumping also known as dock diving is a dog sport in which dogs compete in jumping for distance or height from a dock into a body of water.
There are many dock diving events in the U.S. and other countries such as the United Kingdom and Australia.
Dock jumping first appeared in 1997 at the Incredible Dog Challenge, an event sponsored and produced by pet food manufacturer Purina. There are now a number of organizations that run dock diving competitions in different countries.
Dock Dogs was established in 2002 in the U.S., and its first event was at the ESPN 2000 Great Outdoor Games Competition.
The Super Retriever Series Super dock was also established as a qualifier for ESPN Great Outdoor Games. Splash Dogs was started in 2003, and Ultimate Air Dogs was founded in 2005, by former Major League Baseball player Milt Wilcox. You can see where I am going with this, Dock Jumping started to explode all over the country and the world.
UKC also recognized competitions run by Splash Dogs, how awesome is that. Dogs can also get UKC titles by competing in dock distance or height jumping like they can in Agility, Obedience, weight pulling and more.
North American Diving Dogs was formed in 2014 and offers dog titles recognized by the AKC.
So with all this excitement, we have offered Dock Jumping as fun sport for our clients. Join Hot Dog On A Leash, along with trainers Randy Meyer, Heather Oakes, and Mona Meddock, and Super Girl Kiki who is expected to wow the crowds with her flying jumps.
The Ultimate Air Dock Diving  Competition is March 11th and 12th at Beach City Dogs in Oceanside. Come and cheer on Kiki as she soars through the air.
Contact us 760-809-4020 if you have a Dog that just loves water and most importantly to jump and make a Splash!!!!!
https://hotdogonaleash.com/wp-content/uploads/2017/03/What-is-Dock-Diving.jpg
483
724
bruce
http://hotdogonaleash.com/wp-content/uploads/2017/10/hdoal-300x247.png
bruce
2017-03-10 02:17:23
2019-05-02 04:54:17
What is Dock Diving?