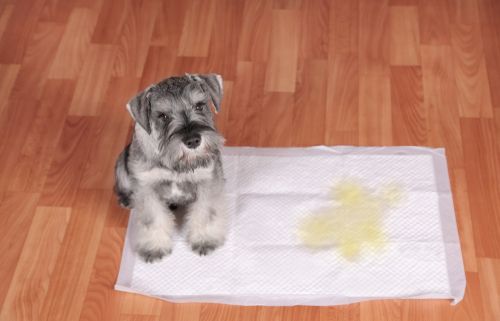 When temperatures drop, it may be more of a struggle for you to potty train your four-legged friend.  Persuading a pup to face the cold weather while taking a potty outside will require additional effort.  Just know that some puppies are unaffected by colder weather and going potty outside is not much of an issue whatsoever.  However, we are here to help either way!  Please look at our list of tips below which will provide you with extra confidence during the Winter season.
It's time to bundle up! Not all dogs need clothing to go outdoors during colder months, but some do, and this is very important.  Having your dog wear a raincoat or jacket will create a protective barrier between them and the cold rain and snow.  Make sure that all clothing has proper cutouts for elimination.
Clear the ground. If you are in an area with a lot of snow, be sure to shovel it by creating a special potty space.
When the ground is clear, it is easier for your dog to pick up smells from prior eliminations.
Teach them a cue. Every time your puppy goes to the bathroom, say a cue word like "go potty" or "be quick". Once
your puppy is familiar with the cue, you can say it as soon as they reach their potty location.
Treats galore! Reward your puppy when they eliminate. This will provide positive reinforcement that they are doing
a great job.
We hope that you will use some of our techniques when it comes to potty training your dog in cold weather conditions.  It will make so much of a difference!
https://hotdogonaleash.com/wp-content/uploads/2021/02/Tips-on-How-to-Potty-Train-Your-Pup-in-the-Winter.jpg
334
500
Hot Dog on a Leash
http://hotdogonaleash.com/wp-content/uploads/2017/10/hdoal-300x247.png
Hot Dog on a Leash
2021-02-26 16:28:47
2021-02-26 16:29:50
Tips on How to Potty Train Your Pup in the Winter