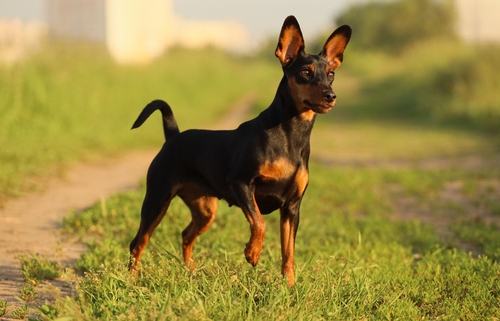 We are excited to talk about our Spotlight Breed of the week, the Miniature Pinscher!  This is a little dog with a GIANT personality.  A lot of people assume that the min pin is a miniature version of the Doberman Pinscher.  This is not the case.  In fact, the min pin is not a scaled-down version of any breed; this is a breed unto itself.  Most historians believe that the min pin was developed from a combination of the German Pinscher, the smooth Dachshund, and the Italian Greyhound.
Min pins have a "one of a kind" attitude.  They are fearless, energetic and alert companion dogs who enjoy the company of their families.  They have high energy so they will require plenty of exercise.  Their sensitivity level is super high as they take a lot of things to heart.  They are very affectionate with family and can be the best cuddle buddy that you ever wanted.  However, it may take a min pin some time to warm up to other humans or dogs.  They will likely show some aggression towards strangers, but socialization goes a long way.
Grooming a min pin is extremely easy as they do not shed a lot. This is a "brush and go" dog which is perfect for an owner who is always on the go.   The trainability for the min pin is so-so as they tend to need more time, patience, and repetition during training.  They do tend to bark as they want to let you know when they are around!  Min pin owners must be willing to take the position of "alpha" in your household.  If you do not, the breed will gladly assume the role!
Our favorite quote about min pins is…" I feel absolutely no guilt about the fact that I love no one but you." If you are looking for a "top notch" companion dog, the min pin is for you!
https://hotdogonaleash.com/wp-content/uploads/2021/01/Spotlight-Breed-Miniature-Pinscher.jpg
334
500
Hot Dog on a Leash
http://hotdogonaleash.com/wp-content/uploads/2017/10/hdoal-300x247.png
Hot Dog on a Leash
2021-01-21 06:00:03
2021-01-21 06:00:03
Spotlight Breed Miniature Pinscher