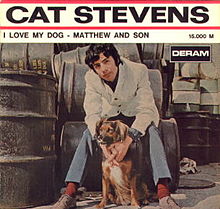 You've probably heard many songs about dogs.  There are songs about big dogs, good dogs, and everything in between!  We wanted to share a list of our favorite songs and give you some insight on the meanings behind them.
"Old King" by Neil Young – Neil Young wrote this sound for his hound dog, Elvis who spent many years traveling with Young on his tour bus. Young mentioned that Elvis was his best friend, and he would confide in him for anything. If you have ever shared the highs and lows of your day with your dog, this song will hit home.
"Martha My Dear" by The Beatles – Paul McCartney wrote a song about Martha, his first canine-companion. She was an old sheepdog who helped him out when he needed it the most.
"Man of the Hour" by Norah Jones – This gorgeous, bluesy number is an homage to Norah's poodle, Ralph, who the song tells us makes a much better companion than any of the men she's seeing. Norah mentioned that she is madly in love with her dog.
"I Love My Dog" by Cat Stevens – Cat Stevens acknowledged that the subject of his very first single probably seemed "very strange," what with his first name and all, but he noted, "I meant it." It's yet another song weighing a love relationship against love for a dog. And the dog wins, every time.
"Cracker Jack" by Dolly Parton – This song was inspired by Parton's impoverished childhood. One of the lyrics states, "Cracker Jack would run to meet me after school each day/He'd jump and wag his tail and look at me as if to say/'I love you and I missed you and I'm glad you're home again'/I knew just how he felt cause me and Cracker Jack was friends."
https://hotdogonaleash.com/wp-content/uploads/2021/02/Five-Famous-Songs-About-Dogs.jpg
209
220
Hot Dog on a Leash
http://hotdogonaleash.com/wp-content/uploads/2017/10/hdoal-300x247.png
Hot Dog on a Leash
2021-03-08 06:51:03
2021-03-08 06:51:03
Five Famous Songs About Dogs