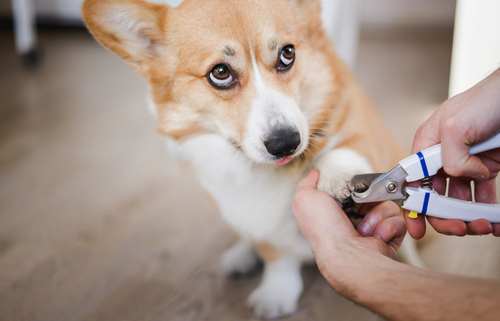 Trimming your dog's nails offers as much benefit to you as does to your dog. Neglected nails can lead to discomfort or infection, not to mention the damage they can do to your floors and furniture. If your dog's nails appear long or brittle, or if you hear a constant clicking sound when they walk, those are clear signs that it is time for a trim. It's best to start this routine when your dog is young so they get used to clippers or nail grinders, as it should be performed as needed thereafter.
It is common for dogs not to love the experience of having their nails cut. This may lead you to wonder how necessary it is to keep your pup's nails nice and trim. However, keeping your dog's nails at an appropriate length isn't all about looks, it can affect their overall health and comfort. Nails that have grown too long may:
Split and break, which can be painful
Lead to an infection
Become caught in carpets or other surfaces
Make walking or running uncomfortable and difficult
Cause irreversible damage or deformities to the paws or legs
You may be wondering how often you need to cut your dog's nails.  This depends on how fast they grow (their breed plays a major role) and how much normal wear they get from the surfaces that they walk on.  However, the general rule is to cut your dog's nails at least once per month.  It is important to invest in a high-quality clipper set for your dog if you plan to trim nails at home.  Look for a clipper with a sharp blade which will avoid crushing the nail.  There are different types of clippers that work better with some dogs than others.  Do your research to find the best fit!
https://hotdogonaleash.com/wp-content/uploads/2021/02/The-Importance-of-Nail-Trimming.jpg
334
500
Hot Dog on a Leash
http://hotdogonaleash.com/wp-content/uploads/2017/10/hdoal-300x247.png
Hot Dog on a Leash
2021-03-05 06:35:44
2021-03-05 06:35:44
The Importance of Nail Trimming