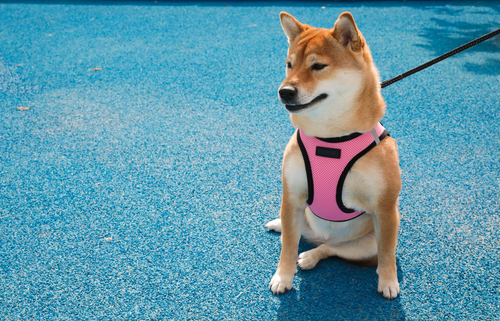 Dog harnesses have been around for quite some time.  However, the majority of dog owners are not aware of them and/or they don't know much about them.  We're here to help!  We have a list reasons why harnesses are beneficial.  We will leave you to decide if you would like to use one or not!
More control. Some of the biggest and strongest dogs are hard to manage, especially when they are stimulated by scents or even rodents! A harness will allow the owner to properly control the excited dog when it tries to stray of the beaten path.
Prevent leash pulling. Dogs that are not properly trained in leash fundamentals will pull their owners causing them to add pressure to their neck. A harness will discourage the dog from this behavior.  The leash is fixed to a hook on the dog's back in between its shoulders which prevents pulling by pointing the forward motion to the opposite direction.
Safety. A dog can easily escape from a collar if it's not tight enough. On the flip side, if the collar is too tight, the dog is at risk of neck and trachea injuries.  The harness is a much safer option as it will give the owner peace of mind.
No more tangled leashes. Excited dogs can twist around their owners while tangling their leashes. This can cause injury to both the dog and the owner!  A dog will not be able to tangle themselves if the leash is attached to the back side with a harness.
Prevent Ocular Proptosis. Ocular Proptosis is the protruding of the eyeballs from their sockets. The dog's eyes appear to be bulging out of the eyelids.  This is created by the pressure around the neck area when a dog is pulling on their leash.  This is definitely a critical condition.
There are many reasons why harnesses are beneficial to both the dog and the owner.  However, these are the most important to note!  We hope that you consider this option regardless of the breed of your pup.
https://hotdogonaleash.com/wp-content/uploads/2020/09/Dog-Harnesses.jpg
334
500
Hot Dog on a Leash
http://hotdogonaleash.com/wp-content/uploads/2017/10/hdoal-300x247.png
Hot Dog on a Leash
2020-09-30 08:18:36
2020-10-06 00:41:12
Dog Harnesses