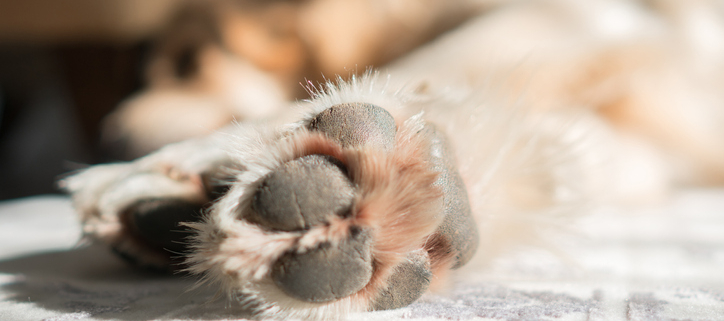 Paws and Splinters: Understanding and Addressing a Common Canine Concern
With their boundless curiosity and playful nature, dogs often find
themselves exploring environments that may pose unexpected hazards.
One common issue many dog owners encounter is the presence of
splinters or foreign objects lodged in their furry friend's paws.
Splinters, which can be wood, thorns, glass shards, or even tiny
pebbles, can cause discomfort and pain to dogs. Recognizing the signs
of a splinter in a dog's paw and knowing how to address it safely is
crucial for maintaining their well-being.
A dog with a splinter in their paw may exhibit various symptoms.
Limping or favoring one paw, incessantly licking or chewing the
affected area, and sudden yelping or whining when walking are common
signs. If you suspect your dog has a splinter, it's essential to
approach them calmly and gently examine the paw. Be cautious, as a
frightened or pained dog may snap or bite inadvertently. If you can
see the splinter, use tweezers to remove it carefully. Remember to
sanitize the tweezers and the affected area before and after
extraction. However, if the splinter is deeply embedded or not easily
visible, it's best to consult a veterinarian to prevent further injury
or infection.
Preventing splinters in the first place is key to keeping your dog's
paws safe. Regularly inspect their paws after walks or playtime,
especially in areas with potential hazards like rough terrain or dense
vegetation. Keeping their nails trimmed and providing paw protection,
such as booties or paw wax, can reduce the risk of splinters. Promptly
addressing splinters or foreign objects in your dog's paws ensures
their comfort and avoids potential infections. By being vigilant and
proactive, you can help your canine companion stay happy, healthy, and
free from the discomfort of pesky splinters.
https://hotdogonaleash.com/wp-content/uploads/2023/11/iStock-1297472543.jpg
483
724
Hot Dog on a Leash
https://www.hotdogonaleash.com/wp-content/uploads/2017/10/hdoal-300x247.png
Hot Dog on a Leash
2023-11-09 05:23:58
2023-11-09 05:23:58
Paws and Splinters: Understanding and Addressing a Common Canine Concern