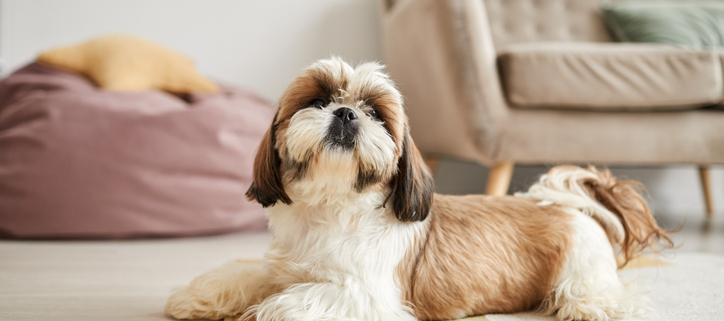 Clean Carpets and Happy Dogs: Tips for Maintenance 
Keeping your home clean when you have dogs can sometimes feel challenging, especially when maintaining a spotless carpet. However, with the right strategies and diligence, you can enjoy a clean living space and the joy of having furry companions. Here's how to maintain a clean carpet while sharing your home with dogs.
Regular Grooming:One of the best ways to minimize the amount of dirt and debris on your carpets is to groom your dogs regularly. Brushing their coats helps reduce shedding, which decreases the amount of loose fur that can find its way into your carpets.
Use Entryway Mats:Placing mats at entryways can help prevent dirt, mud, and debris from being tracked onto your carpets. Encourage your dogs to wipe their paws on the mats before entering the house to minimize the transfer of outdoor messes.
Vacuum Regularly:Regular vacuuming is essential to clean carpets. Invest in a vacuum cleaner designed to tackle pet hair and dander. Vacuum high-traffic areas more frequently, and remember to vacuum under furniture and along baseboards.
Clean Spills Promptly:Accidents happen, but it's crucial to promptly clean up any spills or accidents. Blot up liquids and use a pet-safe carpet cleaner to prevent stains and odors from setting in.
Regular Professional Cleaning:Schedule professional carpet cleaning at least once a year or more frequently if needed. Professional cleaners have the equipment and expertise to thoroughly clean and refresh your carpets, removing embedded dirt and odors.
Establish "Pet-Free" Zones:Designate specific areas of your home as "pet-free" zones, such as bedrooms or specific carpeted rooms. This can help reduce the amount of pet-related messes in those areas.
Train and Maintain:Consistent training can help dogs understand where they can go in the house. Housebreaking and teaching commands like "off" or "stay" can help prevent accidents and keep your carpets cleaner.
Regular Health Checks:Regular health check-ups for your dogs can also contribute to a cleaner home. Health issues like skin problems or excessive shedding can be addressed promptly with the guidance of your veterinarian.
In conclusion, maintaining a clean carpet while having dogs is achievable with regular grooming, preventive measures, and consistent cleaning habits. By incorporating these strategies into your routine, you can enjoy a clean and inviting home that accommodates your furry friends and your desire for cleanliness.
https://hotdogonaleash.com/wp-content/uploads/2023/10/iStock-1427750378.jpg
483
724
Hot Dog on a Leash
https://www.hotdogonaleash.com/wp-content/uploads/2017/10/hdoal-300x247.png
Hot Dog on a Leash
2023-10-25 08:27:12
2023-10-25 08:27:12
Clean Carpets and Happy Dogs: Tips for Maintenance