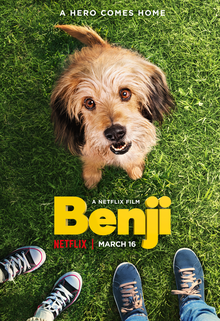 Movies that showcase dogs hit home for most of us.  What makes them so special is that we can easily relate them to our own dogs which really makes the movie more meaningful to us.  We have narrowed down a list of our favorite dog movies of all time!  Do you have a movie that didn't make it on the list?  Be sure to let us know what it is!
Benji – 1974.  Benji is the story of the cutest little mutt who roams around a small town in Texas.  Two of his favorite children are kidnapped causing him to go on a mission to save them!
All Dogs Go to Heaven – 1989.  This is a classic tale where a dog returns to Earth from heaven and seeks revenge (we won't ruin the movie for you!).  Throughout the journey, the dog grows to love a little orphan girl and they become the best of friends.
Homeward Bound – 1993.  The movie follows the story of three pets who, thinking they have been abandoned when their owners go out of town, leave behind their comfortable domestication and strike out into the wild on a search for their owners.  Full of laughs and suspense, this is a perfect movie for dog and cat lovers alike!
My Dog Skip – 2000.  The story line includes drama, comedy, and even historical events, which makes for an interesting plot and a heartwarming story about the friendship between a boy and his dog.
Marley & Me – 2008.  Go ahead and grab the tissues for this one!  The movie makes viewers laugh at Marley's disobedient puppy antics and then makes you appreciate how dogs can bring a family together.
A Dog's Purpose – 2017.  A devoted dog discovers the meaning of its own existence through the lives of the humans it teaches to laugh and love. Reincarnated as multiple canines over the course of five decades, the lovable pooch develops an unbreakable bond with a kindred spirit.
https://hotdogonaleash.com/wp-content/uploads/2021/03/The-Best-Dog-Movies-of-All-Time.png
326
220
Hot Dog on a Leash
http://hotdogonaleash.com/wp-content/uploads/2017/10/hdoal-300x247.png
Hot Dog on a Leash
2021-04-14 07:20:21
2021-04-14 07:20:21
The Best Dog Movies of All Time