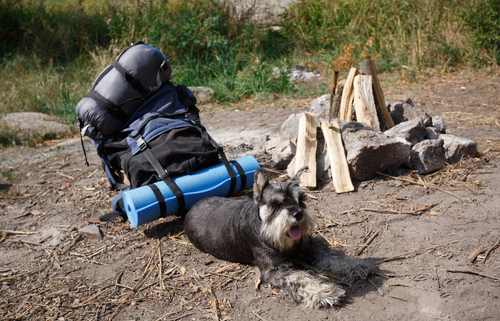 Hiking is a fun way to go out and enjoy nature with your four-legged friend!  Just keep in mind that this hiking companion will need a lot of care and feeding.  There are a lot of things to consider before bringing a dog along with you on a hike.  You will need to figure out what your dog will wear, the gear that you will need to take, plan for food and water breaks and consider trail hazards.
Please be advised that puppies are not ready to carry a load, nor are their immune systems ready to take on the world…. quite yet.  Be sure to visit the vet and ask key questions before you and your dog head into the wilderness.  Determine if your dog is physically fit, if they need any specific vaccinations or preventative medicines, and determine if their immune system is ready for the exertion.  Be aware of all the trail regulations.  Some national parks do not allow even leashed dogs on the trail.  The rules will vary depending on location.
Practice proper trail etiquette.  You will always need to maintain control of your dog.  Be sure to step off the trail to yield the right of way to hikers, horses, and bikes.  Also, be sure to pick up pet waste along the way.  You need to do your part to ensure that the trails are clean.  There are several essentials that you should pack.
First Aid Kit – Be sure to add special medicines, bandages, and even Pedialyte for the time of need.
Sleep System – Be sure that you have enough room for your dog!
Dog Towel – You will need one dedicated hiker towel to wipe off muddy paws before your dog joins you inside the tent.
Safety Light – This is a great way to keep track of your dog after sunset!
Dog Coat – Definitely plan to bring a dog coat if temperatures will be low!
Being on the trail all day requires you to provide more food and water than your dog typically consumes.  Larger dogs might drink 0.5 to 1.0 ounces of water per pound per day. Dogs 20 pounds and lighter will be closer to 1.5 ounces per pound per day. These are general guidelines, though, so you need to be watchful and offer water often, especially on hot days. If the nose is dry, then you're under-hydrating your dog.
We hope that you enjoyed our article.  Be sure to send us pictures of your hiking adventures with your dog!
https://hotdogonaleash.com/wp-content/uploads/2021/02/Hiking-with-Your-Dog.jpg
334
500
Hot Dog on a Leash
http://hotdogonaleash.com/wp-content/uploads/2017/10/hdoal-300x247.png
Hot Dog on a Leash
2021-02-11 06:21:23
2021-02-11 06:21:23
Hiking with Your Dog