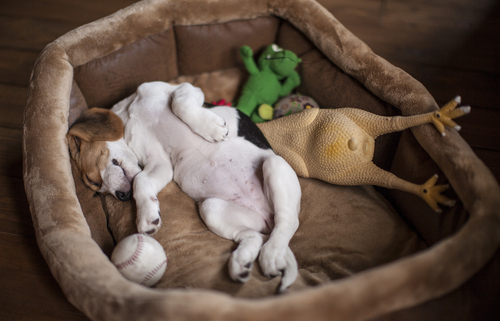 Puppies mainly focus on three things…eat, sleep and play!  Sleep is a very important part of your puppy's life because most of their growth occurs during this time.  Also, the healthiest puppies are normally the most rested.  You want to do your best to ensure that your puppy is comfortable and has a bed to call their own.  Continue reading as we will discuss the importance of a puppy bed and the various types of beds in which you can purchase.
Puppy beds provide a safe place for your puppy to sleep.  This ensures that they can enjoy a peaceful sleep without any interruptions.  It is important to know that when puppies are woken up prematurely, or during the deeper stages of sleep, they can develop many health problems and poor growth.  Another reason why puppy beds are beneficial is that they keep the puppies off your furniture.  Think about it!  If your puppy has their own bed, they are less likely to steal anyone else's!
What do you need in a puppy bed?  They should be comfortable, ensuring that the puppy will use it.  You need to ensure that the bed makes them feel safe and secure.  There are several beds to choose from.  Most dogs love bolster beds.  A bolster is a cushioned pillow that is positioned around the edges of a dog bed.  This is convenient because dogs usually love to rest their head on the cushioned part of the bed.  On the other hand, the luxe lynx round dog bed is a round disc with no bolster on the sides.  This may be ideal for a dog who loves to stretch!  There are also bolstered dog beds that are enclosed on all four sides.  This will make your puppy feel more secure.
As you can see, there are many options when it comes to selecting the best bed for your puppy.  Sleep is very important for their health and growth so choose wisely!  You may discover that one bed works better than the other and this is okay.
https://hotdogonaleash.com/wp-content/uploads/2021/10/Puppy-Beds-.jpg
334
500
Hot Dog on a Leash
https://www.hotdogonaleash.com/wp-content/uploads/2017/10/hdoal-300x247.png
Hot Dog on a Leash
2021-10-20 06:42:11
2021-10-20 06:42:11
Puppy Beds