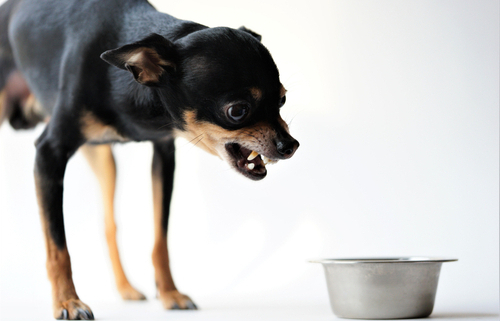 Dogs can be territorial, especially when it comes to food.  This can become an issue for a couple reasons.  Those living with a dog could be at risk of being bitten, and it could lead to your dog becoming possessive in other areas of its life.  This behavior can also be harmful to other dogs.  Thankfully, there are ways to treat food aggression in dogs by properly training to manage their behavior.  Please follow our steps below:
This step focuses on acquainting your dog with your presence when they are eating meals or treats.  Stand back from your dog by a few feet while they eat.  Ensure that they are in a relaxed manner before moving to the next step.
Add a tasty treat to their bowl to reward them for their positive behavior.
Stand close & talk. Focus on proximity and conversation.  While your dog is eating from their bowl, stand next to them and give them a special treat.  Repeat this process every few seconds with a goal of consistency.
Have a treat in one hand and touch their bowl with the other hand.  Do not take food from it.  This will help your dog become accustomed to your close presence during mealtimes.
Lift bowl. This stage focuses on building trust.  In a calm tone, speak to your dog as you pick their bowl up.  Only lift the bowl 6-12 inches from the ground.  Add a treat and set the bowl back down.  Your goal is to lift the bowl higher and higher until you can place it on the table.
Repeat.  Other members of the family will repeat the same steps of the training process.  Do you have another dog?  Follow the same steps with the presence of the other dog(s).  It will be a timely process, but it is so worth it!
https://hotdogonaleash.com/wp-content/uploads/2020/11/How-to-Stop-Food-Aggression-in-Dogs.jpg
327
500
Hot Dog on a Leash
http://hotdogonaleash.com/wp-content/uploads/2017/10/hdoal-300x247.png
Hot Dog on a Leash
2020-11-30 06:00:41
2020-11-30 06:00:41
How to Stop Food Aggression in Dogs