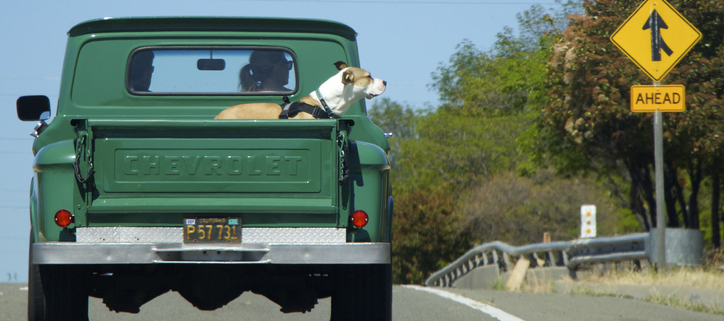 Dogs and the Dangers of Riding in the Back of a Truck
The image of a happy dog enjoying the breeze as they ride in the back
of a pickup truck may seem idyllic, but it conceals significant
dangers. Dogs are cherished members of our families, and their safety
should be a top priority when traveling with them. Riding in the open
bed of a truck exposes dogs to a range of potential hazards that can
result in injury or worse. Pet owners must know these risks and take
precautions to ensure their canine companions are safe during car
rides.
One of the most immediate dangers of dogs riding in the back of a
truck is the risk of falling or being thrown from the vehicle. Sudden
stops, sharp turns, or accidents can lead to catastrophic consequences
for unrestrained dogs. Even if a dog is well-behaved and accustomed to
riding in the truck bed, unexpected events on the road can startle or
unbalance them, leading to an accident. Additionally, flying debris or
road debris can pose threats to a dog's well-being, causing injuries
to its eyes, face, or body.
To keep our four-legged friends safe during car rides, securing them
properly is essential. The safest way for a dog to travel in a vehicle
is inside the cabin, either in a crate or with a specialized harness
designed to keep them secure and comfortable. If you must transport
your dog in the back of a truck, using a well-ventilated and enclosed
crate anchored to the truck bed is recommended. In any case, ensuring
that your dog is restrained and protected from potential hazards is a
legal requirement in many places and a moral obligation for
responsible pet owners. Remember, a few minutes of convenience are
never worth the safety and well-being of our beloved canine
companions.
https://hotdogonaleash.com/wp-content/uploads/2023/11/iStock-821111038.jpg
483
724
Hot Dog on a Leash
https://www.hotdogonaleash.com/wp-content/uploads/2017/10/hdoal-300x247.png
Hot Dog on a Leash
2023-11-13 06:32:58
2023-11-13 06:32:58
Dogs and the Dangers of Riding in the Back of a Truck